Our Mission
Life Line is relentlessly focused on producing ambulances and providing service that exceeds customer expectations, empowering each Life Line partner to work with pride and professionalism.
Quality Saves Lives
Life Line stands out from our competitors for our relentless focus on quality, safety, and durability. We are dedicated to providing long-lasting value for our customers, from the first phone call to the delivery of your custom ambulance and beyond.
Our commitment to quality innovation is second to none. We are one of the few manufacturers to offer proprietary aluminum extrusions that add strength, improve stability and contribute to the quiet comfort of every vehicle we build. We were the first ambulance manufacturer to offer Labyrinth-style door construction, a double aluminum insulated floor and a two-piece aluminum impact rail, features that improve safety for patients and emergency personnel. Life Line ambulances are also known for their state-of-the-art Elite G3 Touch Screen system.
When it comes to setting ambulance standards, Life Line is an active member of the Ambulance Manufacturer Division (AMD) of the NTEA, as well as strongly involved with NFPA 1917. We take this responsibility seriously as part of an ongoing commitment to continuous product improvement. We are also proud to be one of the original twelve ambulance manufacturers in the United States to submit vehicles for testing for QVM Certification.
Custom Ambulances for Better Emergency Care
Every vehicle we build is one of a kind, according to your needs and specifications. From engineered drawings to the finished product, your Life Line custom ambulance is handcrafted with care. That meticulous construction and attention to detail is why customers keep coming back to Life Line for their emergency vehicle needs.
Better Value, Lower Cost of Ownership
As an employee-owned company, Life Line goes the extra mile to produce custom ambulances. Our employee owners are proud of their skills and proud of their product. We cut no corners in the name of production or profit, and we do the right thing to ensure reliability and performance. For over 35 years we've built a reputation around remarkable customer service, outstanding quality and exceptional craftsmanship, all to help you provide better patient care.
In these times of shrinking budgets, remember that our commitments to quality, safety and durability reduce your lifetime cost of ownership. We believe that the strength and quality of our product can be measured not only by the length of our warranty but by our actions. Life Line will always stand behind our product.
Our Pledge:
Proudly Made in Iowa
Life Line vehicles are proudly manufactured by our employee owners in Sumner, Iowa.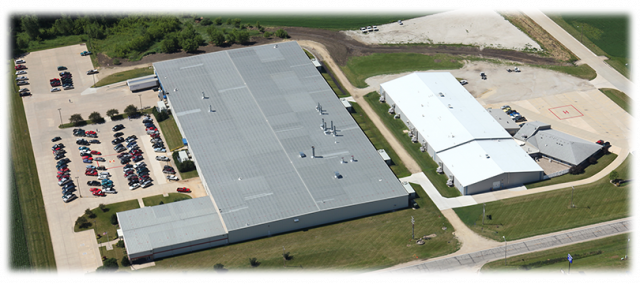 What Life Line Customers Say About Our Custom Ambulances
We are incredibly satisfied with this ambulance from top to bottom. From your assistance during the spec process to the engineering and craftsman that put the nuts and bolts together, this beautiful rig is a true masterpiece. After having this ambulance in service now for almost a year, our entire department couldn't be happier. This is by far the nicest ambulance I have ever driven! The ride in back is so much better than other rigs, as well! I look forward to building our next ambulance with you in a couple years.

– Jerrad Ihlenfeld, Captain, Sussex Fire Department
We've been purchasing from Life Line for approximately 20 years. The vehicles have lasted, and we've put them through the test. If you can get to the Life Line plant and see the process, it's impressive. You can see how sturdy the vehicles are, the materials they're using and how well they're built from the inside out.

– Jason Hernandez, Medical Officer, Waterloo Fire & Rescue, Waterloo, IA
I have never seen my 40+ employees so excited about a new vehicle as they are with this new Life Line.  I have heard "This is the nicest truck I have ever seen" many times.  Thank you for getting us a High Quality Product!

– Brian Watkins, Director, Wells EMS, Maine
When you deal with peoples lives, you go with the best equipment you can lay your hands on. You don't go with second best, you don't go with halfway, you don't go with maybe. This is our second LL ambulance. There will be a third.

– Jake Spiegel, Paramedic, Jesup Ambulance Service, Jesup, IA
We were honored to have the first ambulance off the line in 1985. In 25 years, I can say the safety and service have been excellent, and I would recommend Life Line to anyone.

– Jane Morgan, Sartori Paramedic Service/Covenant Ambulance Service, Cedar Falls, IA
We chose to go away from the ambulance builder we have used for many years to the Life Line brand ambulance for our latest purchase. One of the things that sets Life Line apart from their competitors is the employee owned business model they have. I believe this makes the employee more detail oriented and gives them more pride in the final product. Life Line as a greater structural integrity in its design and choice of materials that gives us more comfort in knowing it will hold up longer and be safer in a potential crash environment. They use the same basic design for safety in all their ambulances and you don't have to be concerned with special specifications for structural stability because it is already there. We did not have to do any customization, as their standard Highliner design met our needs as a basic ambulance. We really like their overall construction methods and design which sets them apart from many of their competitors. They also have a really nice remount program that allows you to use your existing ambulance box and end up with a new ambulance with factory warranties. I would highly recommend Life Line to anyone in the market for a new ambulance.

Additionally, our dealer rep, Pfund Superior Sales did an outstanding job with this purchase for us.

– Kim Baldwin, Fire Chief, Barberton, OH
We found the purchase experience and the after-purchase support outstanding, especially considering that we are a small department that buys ambulances infrequently. Thanks, we'll tell our friends!

– Charles Taylor, Rescue Squad Captain, Lauderdale, WI
We found Gorman Emergency Vehicles after our old ambulance dealer and manufacturer went out of business. Gorman's has happily serviced our old ambulance; even without any support from the manufacturer. They have made cost affective repairs quickly and kept our old ambulance in service.

We also purchased one Life Line ambulance from Gorman's and the experience was 1st class. They worked with us to design our perfect ambulance. There was ONE minor issue after delivery, which was taken care of immediately. That ambulance has been with us for 3 years with ZERO problems. Gorman Emergency Vehicles is a great company to work with and the staff are always exceeding our expectations. A+

– David Harrington, Treasurer, Middlesex Valley Volunteer Ambulance Service
The Cambria Volunteer Fire Co. purchased a new Life Line Ambulance from Gorman Emergency Vehicles in 2016. Working with Bill Gorman throughout the project was a easy experience. Bill was always prepared for all our meeting and was able to answer all our question's. If Bill said he was going to get back to us, he always followed up. Bill was available anytime that we had a question. Bill from Gorman Emergency Vehicles made our buying experience very manageable for us in Cambria.

– Roger Schreader, EMS Captain, Cambria Volunteer Fire Company